Prestige Sports Pitches design and install artificial grass, tarmac and polymeric tennis courts as dedicated tennis surfaces or as part of a multi-use games area (MUGA). All levels of ability and budgets are catered for and we also re-surface old or worn out courts. Sports fencing and lighting can be installed as required.
Click here to see which surface may best suit your project. We give free estimates and would be delighted to help you.
Our tarmac courts are built using a free-draining stone sub-base with one or two layers of open-graded, porous, frost-resistant macadam. The use of a second layer of macadam gives additional stability and strength to the playing surface. Tarmac surfaces can be painted to improve slip resistance and aesthetic appearance.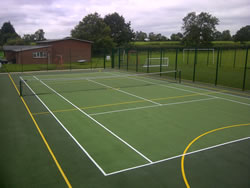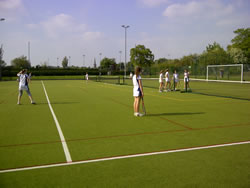 Our polymeric courts are constructed from SBR and / or EPDM rubber with a polyeurethane binder and slip resistant materials. The surface has high surface friction and low shock absorbency giving excellent playing characteristics.
Our artificial grass tennis courts are sand-filled or sand-dressed surfaces and meet Lawn Tennis Association requirements.