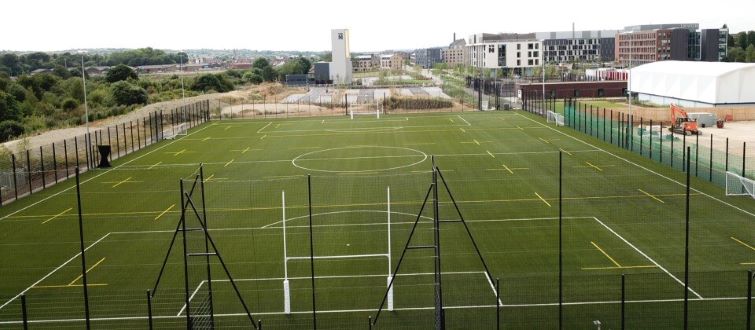 Prestige Sports Pitches are now designing and installing 3G and 4G rugby pitches as advances in artificial turf technology allay safety concerns and persuade rugby governing bodies of the potential financial benefits of an all-weather pitch. Artificial grass rugby pitches cost from approximately £60/m2 depending on specifications. We give free estimates and would be delighted to help you with your project.
Astroturf rugby pitches usually comprise a 60 or 65mm (pile height) carpet, laid onto a 25mm (in situ) shockpad over a dynamic base (tarmac on top of free-draining, frost-resistant stone). The carpet is made from polyethylene fibres, to reduce friction burns, and is infilled with specialist sand and rubber to aid shock absorbency.
Rugby pitches are subject to particularly stringent testing procedures, by specialist laboratories, to ensure that they conform to RFU IRB Regulation 22 standards.
Fencing for rugby pitches is not as integral to the game as it tends be with football and hockey. If you require fencing, we can suggest lower cost options. Rugby pitch lighting levels are generally 200 lux. A lower level of 100 lux may be used for training.