Artificial Grass for Rugby
The choice of carpet is very important and specialist knowledge is required to ensure that the yarn used is the best option for the type and level of sport(s) to be played. This is particularly important for high impact sports such as rugby.
Rugby is played on a 3G artificial grass surface with a pile height between 60mm and 65mm. The carpet is in-filled with a mixture of sports-grade sand and rubber and laid over a rubber shockpad in order to provide the required shock absorbency and playing characteristics to meet stringent IRB and RFU safety requirements.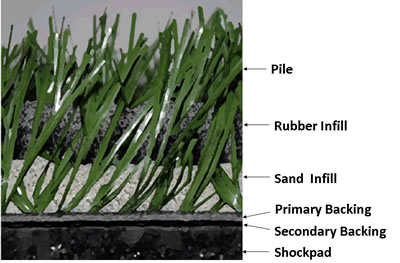 As with other sports carpets, the denser the yarn the more stable and durable the carpet. Polyethylene yarn is most commonly used as it provides a resilient and durable surface without being too abrasive. A secondary yarn is sometimes used to add strength and stability. Yarn is either monofilament or fibrillated.
Monofilament can be easily engineered to help stability and improve the quality of a pitch for secondary sports. Individual strands are plied to form tufts. The more strands the denser the tuft.
Fibrillated yarns are formed from plastic sheets that are slit and twisted. They are less durable (the thicker filaments can split) but they do provide good stabilisation of the infill so there is less movement and dispersion, and they are sometimes preferred for rugby pitches.
Advances in artificial turf manufacture are drawing ever closer to re-creating the natural turf playing experience (without its drawbacks) through the development of new technology such as hydroscopic (water-retaining) yarn and innovative yarn combinations.